---
Cache viewer for Google Chrome browser.
---
Download
Technical Information
Version: 2.35
File size: 257.36 KB
License: Free
Language: English
OS: Windows
Developer: NirSoft
Updated: 05/06/2022
Category: Internet/Browsers
SHA-256: 6a1a98dcf01a2532f62617424a75ff33d27cd9a963388f8c7940e2635490bf29
ChromeCacheView is a small utility that reads the cache folder of Google Chrome, and displays the list of all files currently stored in the cache.
For each cache file, the following information is displayed: URL, Content type, File size, Last accessed time, Expiration time, Server name, Server response, and more.
You can easily select one or more items from the cache list, and then extract the files to another folder, or copy the URLs list to the clipboard.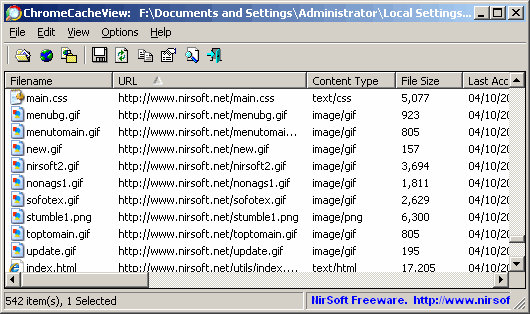 Related