---
Control another computer remotely via internet or network.
---
Download
Technical Information
Version: 1.3.8.1
File size: 5.1 MB
License: Free
Language: English
OS: Windows
Developer: UltraVNC Team
Updated: 03/24/2022
Category: System/Remote Control
SHA-256: 3fcea8139a906fdeba697337584e5a942969962fb8bb94eaed5137b9911834ee
UltraVNC is a powerful, easy to use and free remote pc access software that can display the screen of another computer (via internet or network) on your own screen. The program allows you to use your mouse and keyboard to control the other PC remotely. It means that you can work on a remote computer, as if you were sitting in front of it, right from your current location.

VNC, the Remote Frame Buffer protocol (RFB) allows a desktop to be viewed and controlled remotely over the Internet. A VNC server must be run on the computer sharing the desktop, a VNC client must be run on the computer that will access the shared desktop.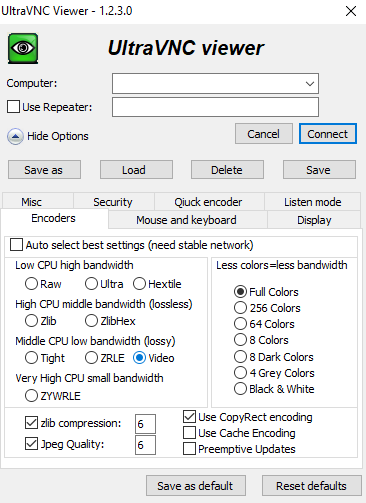 Related