WorldUnlock Codes Calculator
---
Free utility that allows you to unlock different brands of cell phones.
---
Download
Technical Information
Version: 4.4
File size: 154.81 KB
License: Free
Language: English
OS: Windows
Developer: Wickings Network
Added: 04/21/2018
Updated: 03/22/2019
Category: Utilities/Others
SHA-256: 1a95df789ddc26d23eb11c6123312c7fbbf54aa6e4f32c63774e569182fc8b57
WorldUnlock Codes Calculator is a free application for Windows that allows you to unlock Nokia, Siemens, Vitel, Maxel, Panasonic, LG, AEG, Samsung and Motorola brands at home.
How to unlock your phone with WorldUnlock Codes Calculator
The first step to unlock is to obtain the IMEI of the device. One way to obtain this number is on the back of the device (behind the battery). Another way is to enter the code * # 06 # . You can also find this code in the box that comes with the product. You can also find it in the device settings (usually in Settings > About).
With the IMEI in hand, choose your device model and enter the code in the appropriate field, after that, click on the Calculate button. With this data the utility will generate a code. Turn off the device, remove the chip and turn the device back on.
When the phone turns on, test the code. If it displays the message "Restriction removed" the device has been successfully unlocked, otherwise you can make further attempts. There are usually only 5 attempts, if none of them work, the only way will be to take technical assistance.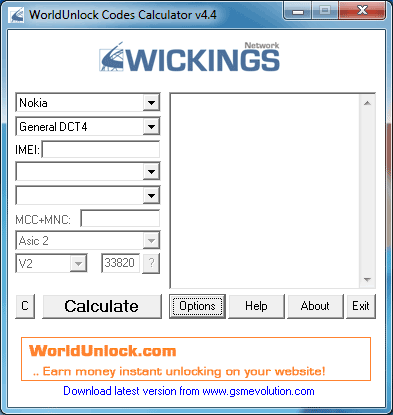 Related