---
Optimization software for Windows 11, with customization and security features.
---
Download Now!
Version: 1.2.3
Size: 29.87 MB
License: Shareware
Language: English
OS: Windows
Developer: Yamicsoft
Update: 2023-03-18
Category: System/System Tools
Windows 11 Manager is an optimization tool for the Windows 11 operating system, which allows the user to adjust and customize various system settings, improving the performance and security of the computer.
Windows 11 Manager offers several features, including cleaning the system registry, managing programs that start up with the system, optimizing internet speed and customizing the appearance of the system.
In short, Windows 11 Manager is a complete solution to improve Windows 11 performance and usability.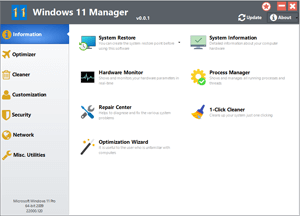 Related