Ratool (Removable Access tool)
---
Software that allows you to control access from external storage devices.
---
Download
Technical Information
Version: 1.4
File size: 953.06 KB
License: Free
Language: English
OS: Windows
Developer: Sordum
Added: 11/18/2021
Category: Utilities/Access Control
Removable Access tool (Ratool) is a utility that allows you to control the access of external devices such as USB storage devices, CDS and DVDs, as well as floppy disks, cassette tapes and WPD.
With Ratool you can completely disable access to USB storage or enable write protection on all USB drives, thus preventing file modification or deletion by third parties.
The software is portable, that is, it doesn't need to be installed. It's also completely free.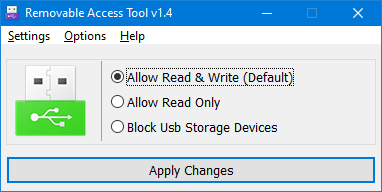 Related