QuickMemoryTestOK
Effective RAM memory diagnostic tool.
Version: 4.68
Size: 345.58 KB
License: Freeware
Language: English
Platform: Windows
File Type: ZIP
Developer: Nenad Hrg
Category: Utilities/Hardware Diagnostics
Update: 2023-11-08
A small yet highly efficient program designed to quickly perform RAM checks for errors before the system's warranty expires. Nowadays, computers come with substantial amounts of RAM, but a significant portion of this resource often goes underutilized. For this reason, it is crucial to conduct memory integrity tests while the warranty is still in effect. This ensures there are no defective areas in the main memory, thus preventing future issues. Furthermore, the program allows testing the operating system's behavior, especially in high-memory demand scenarios, to identify potential system errors.
Below are the key features of QuickMemoryTestOK:
Quick Memory Test execution.
Pause option for monitoring RAM performance.
Customizable test runs.
Clear display of memory status.
Consideration of CPU behavior during testing.
Access to essential memory and system functions.
Moreover, the program offers various other options and specifications:
Freely available for use.
Zoom feature to accommodate visually impaired individuals.
Extremely compact program size.
Minimal CPU usage.
Translation option for different languages.
Swift provision of RAM-related information.
Portability.
Multilanguage support.
A simple example of using the "quick memory test" involves starting the program. During the initial run, you will see the default settings for the quick memory test, which can be customized at any time. The program provides detailed information about current memory usage, akin to what is available in the Windows XP Task Manager. To initiate the memory test, simply click the "Start the Test" button, and you can stop it at any time using the "Stop the Test" button.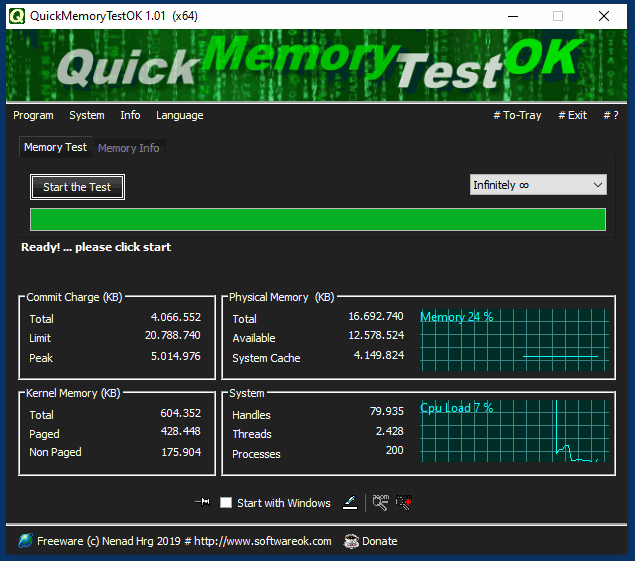 Related
Small utility that accurately displays the processor (CPU) frequency.
Real-time system monitoring software with charts, alerts and custom settings.
Utility to perform performance tests through complex mathematical operations.
Utility for performing benchmark tests.