---
MotioninJoy offline configuration tool for Playstation 3 controls.
---
Download Now!
Version: 1.5.3
Size: 742.12 KB
License: Freeware
Language: English
OS: Windows
Developer: Better DS3
Update: 2020-10-21
Category: Games/Varied Games
Better DS3 is a free utility that does not require installation to make your life easier when using the Playstation 3 controller or generic computer controllers. Through the use of this software there is no need to run Motioninjoy, speeding up the configuration process and the use of its controller.
The utility allows the complete configuration of the controller you are using, including the intensity of the vibration, as well as allowing you to configure its leds. It is possible to create different configuration profiles for different needs.
How to configure Better DS3
Firstly, you need to install MotioninJoy and configure the driver on your computer. With MotioninJoy up and running, you can install Better DS3 by clicking on the download button above. After downloading the file, unzip it and run the extracted file to start configuring the control.
Connect your controller to a USB port on your computer. Remember that it must be properly configured through MotioninJoy. The connected controller should appear listed on the left of the software. On the right side, click on "new" and click on the type of controlerl you want to emulate. For example, if you want to emulate the Xbox controller, choose the Xinput option.
On the screen that appeared, you can configure each button separately, and also modify the vibration and leds settings. At the top of this screen there is the auto-fill option, which automatically selects the correct settings for the chosen control. After everything is ready, just click on "Save Profile" to save it.
With the profile saved, this controller configuration can now be used for your connected control, to do so, just select the newly created profile and click on "Apply". All set, your controller is already being emulated!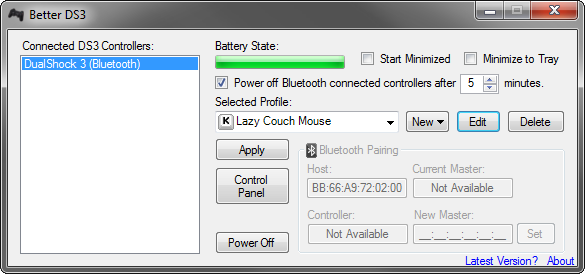 Related