---
Repair and optimize your Windows operating system to bring it's performance back.
---
Technical Information
Version: 4.10.2
File size: 39 MB
License: Freeware
Language: English
OS: Windows
Developer: Tweaking.com
Last updated: 18/12/2020
Windows Repair is a software that has a lot of features that is able to repair the Windows operating system in order to bring back all its performance.
The software is capable of cleaning in various sectors of the operating system, discarding all those unnecessary files that only occupy space and cause slowness on the system.
In addition, the software allows repairs to the Windows registry, Firewall, Windows Update, among other kinds of repairs.
Recommendations
The recommendation of the software's developers is that it be run in Windows Safe mode, since in this mode Windows Repair works in the most appropriate way possible. In the software's own interface there is a button that makes it possible to restart the computer and put it in safe mode.
When using the software, we recommend that you use its backup functionality, so that if something unexpected happens you can reverse the process.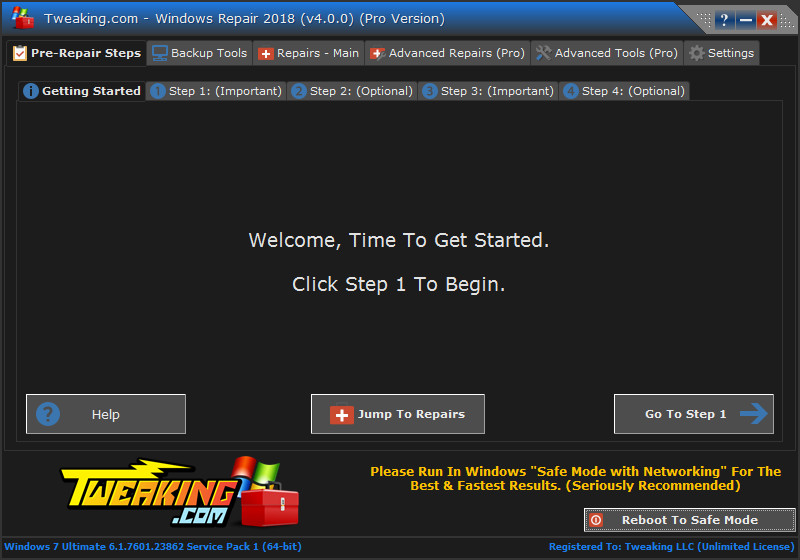 Related
Portable version of CS 1.6 that requires no installation and weighs only 64 MB!
Free utility that allows you to unlock different brands of cell phones.
Restore the Windows 7 master boot record to a new one installation
Mod for GTA San Andreas of Goku with his skills and transformations
Software that automatically detects and installs network drivers even without internet access.