SDR Free Virtual WiFi Router
---
Utility that allows you to transform your computer in a virtual Wi-Fi router.
---
Download Now!
Size: 1.19 MB
License: Freeware
Language: English
OS: Windows
Developer: SoftDevResoruce
Update: 2022-02-17
Category: Internet/Utilities & Tools
SDR Free Virtual WiFi Router is free software for Windows that allows you to create a virtual Wi-Fi access point, without the need for a physical device. All it takes to create the Access Point is a Windows computer and an active internet connection.
In addition, the software displays all details about the connections made at your access point. Information such as IP address, MAC address and other information is displayed in the program's interface.
It is a very easy-to-use software, because its interface is very simplified and organized. It is also very light, consuming very few computer resources, not hindering its use when running in the background.
In short, this is a very useful utility for certain situations where there is no Wi-Fi signal. Any Windows computer can easily become a Wi-Fi hotspot by solving this problem in a few clicks.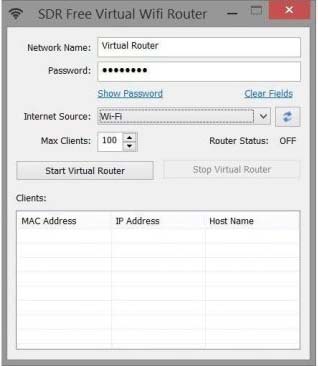 Related