NVIDIA RTX Voice
Completely eliminate any kind of external noise from your microphone.
Version: 0.5.12.6
Size: 329 MB
License: Freeware
Language: English
Platform: Windows
File Type: EXE
Developer: NVIDIA
Category: Multimedia/Audio Capture and Recording
Update: 2022-07-21
NVIDIA RTX Voice is software developed by NVIDIA, which through artificial intelligence (AI), is able to eliminate any type of noise from microphones other than human voice.
Its effectiveness is impressive, you can even clap your hands close to the microphone and the sound will not be picked up.
It uses the technology of video cards from NVIDIA to remove the most diverse noise in a way that seems magic.
Despite its name, the software is not exclusive to RTX line video cards, it also works with Geforce or Quadro line cards.
Works with Discord, OBS Studio, Streamlabs, XSplit Broadcaster, Twitch Studio, WebEx, Zoom, Slack, Teams, Skype, Google Chrome and many others.
How to use
Select your microphone in the Input device option and check the Remove background noise from my microphone option. Then just choose the noise level you want to suppress.
This will create a new virtual microphone, just now you select this microphone in the software settings you want to remove the noise.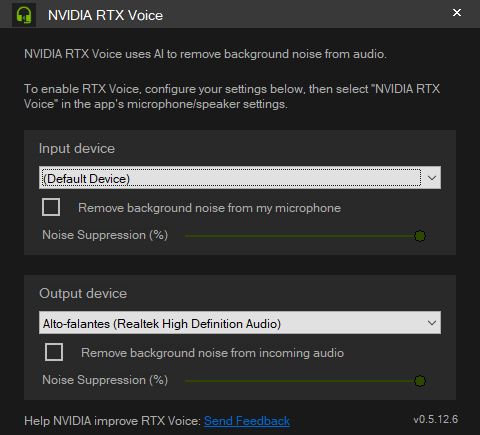 Related