---
Batch converter for about 44 image formats.
---
Download
Technical Information
Version: 8.0
File size: 6.79 MB
License: Shareware
Language: English
OS: Windows
Developer: BatchConverter
Updated: 2022-03-04
Category: Multimedia/Image Converters
SHA-256: f8f65d5dca51b363d9048d70c17338a66437981e20ad83e287866a4303121391

Advanced Batch Converter is a batch converter for around 44 image formats. You just need to choose the image and the output format and the program does the rest.
Supported formats: bmp, dib, rle, gif, jpg, jpeg, tif, tiff, png, pcx, pcc, dcx, tga, wmf, emf, ico, pbm, jng, jp2, j2k, ps, eps, pdf, wbmp , psd, wap, raw, pcd, cin, dot, dpx, fits, fpx, hdf, miff, pict, sgi, sun, vicar, viff, hdp, wdp, xbm and xpm.
It is possible to convert from virtually any format as the software supports over 180 formats!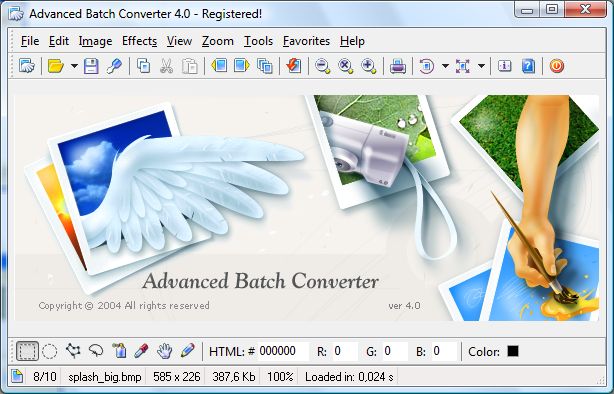 Related